Queenie Brennan: Whistleduck, Ghostbat and Rainbow
Queenie Bangarn Brennan is telling the traditionnal story of the Whistleduck, Ghostbat and Rainbow. This story was recorded by Maïa Ponsonnet on 5th of May 2011 at Barunga. A Kriol version told by Queenie on the same day can be accessed via the ELAR archive.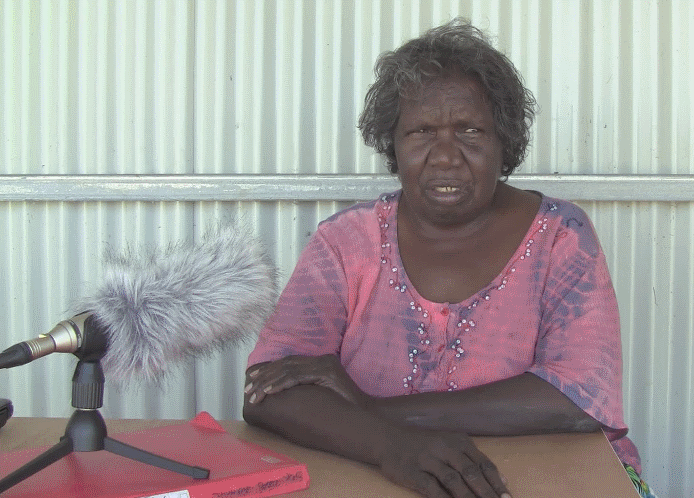 nunda bulu-ngan nah-ngan burrah-yinmiyinmiwoninj ngah-wurdurd-ninj
this is something my father and mother used to tell me when I was a child
bunu ngah-djawadjawaninj
I used to ask them two
kenbo bulu-ngan kah-yininj
then my father said
djah-marnu-wokiyan
I will tell you
keninhbi-kun
about whatsit
bolung
the rainbow serpent
djirrbiyuk
the whistle duck
kanh warlang ngarrah-yin
and the orange bat we call them
mak-- mak warlang
the orange bat is not
kaye-yinmiwon am koloban
that we call am koloban
mud-mondimondih kah-yidjnjan
has a really nice fur
dah-lng-yolyolmu bulu ngah-yininj
you can tell the story dad I said
korrehkun mak da-bengkey
a long time ago, didn't you know
keninjhbi-ngong dubmi manjhmanjh kah---
all the whatsit today's animals were
kah-bon dubmi kah-dolkan
that have got up and are walking around today
wah-kah kah-ning
were in the water
yadj-kah kah-ning nunh bah balah-mimih-ninj
they were in the grass but they were mimih spirits
balah-boninj mimih
they used to walk around as mimih spirits
buhkorrehkun
a long time ago
nunda wan-- nunda kanh
this is what
djah-marnu-yolyolmu
I'm tell you about
kanh djirrbiyuk
the whistle duck
yawkyawk-ninj
was a young girl
ngal-yawkyawk-kuno
she was in her teen age
kah-djikka-lan-dinj
her breast was pointing up
kanh djirrbiyukk
the whistle duck
nah-no bulu-no
her mother and father
yabok-no wulkundjan-no
her bigger sister and younger sister
rowk balah-ninj kanidjah
they were all there
keninjhbi-kah
at the whatsit
kenbo kanidjah kah-djurdbuminj
and there was also a waterfall
kanidjah kah-yunj
was lying there
kah-yurrinj
it laid there
ngal-mamuna-- kenh waridja yuno
the mamuna-- er the you know ?waridja?
bolung
the rainbow serpent
en kanidjah mahkih kah-dja-yongiinj
and there was also lying
kardu djirrbiyuk
like the whistle duck's
bulu-no kah-yininj
father said
kehninjbi-ngong nulah-mamang
pick up all your whatsit
balah-boniyan
they're going
keninjbi ngol bulah-marnu-kiyan
they will whatsit take us
balah-manboniyan
they are going to dance
kinjiyan mey-ngokorrng
will cook food for us
manjh keninjh-nokorrng
our what you call it
bulah-monhmonwoyan
they will make
bulu ngurrah-
we'll see them
kah-mar-yininj
he told them
ma ma ma balah-yininj
alrigh alright alright they said
kirdikird-ngong
all the girls
kah-dja--- djarra kanunh
it is-- there this
ngalHngalkiyan kardu biyi-njelng balah-yininj
will find men for ourselves they said
kanidjah bala-lng-boninj
so they went there
keninjhbi-ngong
all the whatsit
kunj-ngong balah-boninj
all the kangaroos
balah-boyenj
there were a lot
manjh bulu ngurrah-bengkan
the animals that we know
kanihdjah balah-
there they
ma kah-yininj
alright; said
kanh djirrbiyuk
the whistle duck's
manboniyan
are going to dance
yawurrinj-ngong
young boys
nabikeninj-ngong
who's that
kirdikird-ngong balah---
the women will
kinjiyan mey-ngong
will cook all sorts of foods
bulah-ngaHngalkiyan
they will find
dorrung-no-ngong keninjhbi-ngong
all sorts of whatsit
yawok-ngong kardu kenbo bulah-kinjiyan
all the cheeky yams maybe and then roast them
mah kah-lng-
good it makes
mudda-yibkang
hair get up
kardu ngarrah-manbon
if we dance
didjirmdidjirrmu didjirmu
yardiyarda yardiyarda
balah-lng-manboninj
and they danced
yawurrinj-ngong
all the young men
nunda kanunh warlang
and the orange bat
ooo kah-dja-manboninj
oh he kept dancing
nunh bah kah-ngorrk-bakbakkarrinj
and there he was breaking his hips
ooo nunh bah kah-dja---
oh he was so
kah-yininj nunh nakohbanj
the man said
nunda bah kah-mondi-duninj kah-manbomanbon
he's so good when he dances
kah-yaw-dorrung-bakbakkarrun
his little body movements
kenbo balah---
and then they
kah-lng-muna-yinminj
then it was night time
balah-yin mah
they said alright
kenbo derrhno ngarrah--- ?yarrah?--- keninjhbi kurlhkerriniyan kenh
then tomorrow we'll-- whatsit visit am--
ngarre-yawoh-manboniyan
when we dance again
kahnunh njing nakohbanj kenbo
this is when you man/judge then
njel kah-kayhmiyan
you'll shout at us
kah-manbon
among the dancers
bulah-marnu-
they said to
yininj kanh nakohbanj
the man/judge
ma wuhrah kah-yininj
well OK he said
kenbo ngah-kayhyinmiyan
I'll shout then
balah-lng-dudjminj wadda-kah
they went back home then
kenbo derrhno-yin balah-ya--
in the morrow they
yininj balah-manboninj kanunh
they danced the
bukah-lng-marnu-keninjhbi-minj kanunh warlang
she whatsit the orange bat
nunh bah biyi-ngan biyi-ngan biyi-ngan kanunh ngah-ngalkanj kah-yininj
and this is my man my man my man that I have found she said
biyi-ngan nunh
this is my man
yo ngey kah-dja-nanHnan
yes, he's looking at me
kanh djah-manbomanbon ke
as he is dancing yeah
yurrkkuh kah-dja-naHnan kah-yininj kanh
he is looking at me in return she said
djirrkiyuk
the whistle duck
kardu ngey kah-marnu-yolh-mon
he loves me maybe
kah-dja-yininj
she was thinking
dabadabarngh-minj
was the next day
siknol barrah-worrinj
they gave each other a signal
bukah-marnu-yin
they said
kenbo nahdah kah--- djah-niyan
later there I will see you
keninjhbi-kah rorrbo-kah bukah-marnu-yininj
there are the open waters he said to her
bulu kah-dja-lng-mumu-monmon-wong kanh
she was making sweet eyes to them this
keninjhbi djirrkiyuk
whatsit whistle duck
balay kah-bal-boboninj
she went far away
kanidjah bukah-yidjnjayidjnjaninj
there she had him
kah-lng-mudda-yibkang
her hair got up
balah-lng-ngurdminj
they were staying quiet
yibung yibung-karn warlang kah-dudjdudjminj nahda
and him the orange bat as for him returned over there
kah-dja-dudjdudjminj
he came back
kenbo kanidjah bukah-ngalkanj
and there then he found
ngal-keninjhbi djirrbiyuk
the whatsit the whistle duck
wo nunda kirdikird kardu ngey kah-marnu-yolh-mon kah-yininj
yeah, this women maybe she loves me he thought
barrah-dja-yenjdjunginj kanidja:h
they staid there and ta:lked
noborra kardu
over there maybe
noborra kardu kah-danginj
over there it was standing
kodj-burrng-kah
over their heads
kenbo burrah-wonang
then they heard
ngal-djirrbiyuk
whistle duck girl
djirrbiyuk marruh-kah mah djah-boninj
whistle duck where about have you gone
djah-lng-dududjmu kardu
you should come back
kah-yininj nah-no
her mother was going
woy wurdurd malung ngarra-yawayawan kanunh ngal-djirrbiyuk
children come over we willl look for whistle duck girl first
barrah-lng-njon-boninj
they all went
nah-no yabok-no wulkun-djan-no
her mother, her older sister and her younger sister
bulah-lng-yawayawaninj
they were looking for her then
worda worda wordah
oh oh oh
korreh kah-yin djah-bon
quick you go she said
djah-dudjmu na
go back now
kenbo derrhno djeh-narruniyan
we'll see each other tomorrow
bukah-marnu-yininj
she said to him
ma ma ma ma ma
OK OK OK K
kenbo derrhno
see you tomorrow
yibung kah-wurdiwurdi
he sneaked away
ka-bal-wurdiwurdihminj nahda dulum-no-kah
he vanished far away there, went to his hlll
kenbo djirrbiyuk kah-mar-kayhminj
then the whistle duck shouted to ?them
ma djarrabay kardu
aright over here maybe
ngey bah nidjarra ngah-dja-boboninj
but I just came here
ngah-kurnh-nanganan
I'm taking a look
kardu bulu-ngan
like my father
ngah-dja-worhbon
I'm just walking around
manjh keninj mah
and why are you
bulah-yawayawan kah-yininj
looking for me she said
nunh bah mah kanunh kah---
but why are you
djah-yenjdjungiyan
talking to me like this
kah-yininj nah-no
her mother said
djilah-yawayawaninj ke
we were looking for you indeed
ma djah-lng-bon
alright, come on
ngarrah-dudjmu
we're going back
bukah-marnu-yininj
she said to her
balah-lng-dudjminj wadda-kah
they went back home
balah-njenguyonginj
they slept
kenbo muna-yin
it was nighttime
balah-yawoyh-
they danced again
bulah-kinjinj mey
they roasted food
kirdikird-ngong kardu
like the women
keninjhbi-ngong balah-lng---
all ths whatsit they
bulah-lng-winjhminj kanh
they won this
keninjhbi mey-ngong
whatsit the food
keninjhbi ke
whatsit indeed
djakana-ngong
the jabiru mob
keninjhbi-kun balah-yurdyurdminj
the whatsit the race
balah-yurdminj yibung-karn kah-yaw-winhminj
in the race, he won good on him
keninjhbi mahkih
and also this whatsit
keninjhbi bulah-dadjdadjkanj
that they whatsit were cutting
keninjbi-dorrungh
with whatsit
keninjbi ke lob-dorrungh
with a whatsit with a ?stone knife
djila-wanjkih
like a stone axe
keninjhbi-ngong bulah-yaw-winhminj
the whatsit won this
ngarradj-ngong
the white cockatoo mob
ah balah-dja-
ah there were
wanjingh-kun ngarrah-lng---
for one we
ngarrah-lng-yidjnjan
we'll have
nabikeninj kah-lng-winhmiyan kanh
who will win the
kah-manboniyan munguyh
dancing through the night
kanh warlang
the orange bat
kah-dja-boninj kanidjah
he went there
mah ngarrah-manbon ngah-yininj
well let's dance shall we
balah-dja-manbomanbo
they kept dancing
balah-dja-manbo: ?nunh?
they danced
bah? yibung-karn kah-dja-bakbakkarrinj kardu kah---
but him he was moving so sexy like he
ngorlingorlihminj
he was ondulating
bulu kah-berrmanginj ooo
he was facig them oh
ngalewoh kurrubruk
that's it, true
yibung na kah-winhmyan
he is the one who is going to win
kah-mar-yininj namakke nakohbanj
the man/judge declared
kardu kurubruk-duninj
like this is really true
warlang kah-winhminj
the orange bat has won
djilah-woyan
we'll give you
bulu dah-yidjnjan
you have them
bukah-marnu-yininj
he said to him
kanidjah djirrbiyuk kah-mar-boboninj djehneng bukah-beyunginj
there comes the whistle duck coming to him thinking she would take him with her
balah-dja-bakah-ni kirdikird
there were a lot of women
kanidja bulah-beyunj
there grabbing him
bulah-lng-djongdjongminj ke
they were kissing him indeed
bulah-lng-yidjnjayidjnjaninj
holding him
bulah-ngarrinj-yidnjaninj
holding his hands
bulah-lng-ngorrkang nahdah bulah-lng-ka? kanunh kirdikird-ngong
they were all gettng him there taking him all the girls
ooo kah-lng-yininj djirrbiyuk
oh she thought, the whistle duck
manjh kenjh-kun
wait what's that
mah kanh biyi bulu kah---
and this man they
bulu kah-marnu-yin kanunh
they are doing that to him there
bulu kah-yinmiwoy
he should tell them
ngey kahnunh yarrah-narrun
that he is seeing me
kah-marnu-yininj
she said to ?
nunh bah kenbo dubmi ngah-marnu-yinmiyan
I'm going to tell him about this in a moment
kah-dja-lng-djudminj
she ?went away?
mumu-malu-dorrungh
with tears
kah-yurdminj nahda
flowing there
kah-mayahmayahminj
she was losing control
kah-dja-yurdminj nahda
she ran over there
kenbo keninjhbi kah---
and then whatsit where
kah-djurrhbumu-kah
where the waterfall was
kanidja kah---
there kah--
kah-lng-wodnarrinj
she threw herself in
kah-wodnarrinj
she threw herself in
bardi kanidjah kah-
and there was
daddinj keninjhbi bolung
the whatsit the rainow serpent
kah-dja-lng-ngoyeHminj
and when she splashed
barlbbu kah-yaw-dorrung-me
? he grabbed her little one
manjh kenjh-kun mah dah--- djah-buburrun
why are you trying to kill yourself
barna njing mak biyi da--- djah---
and what about no man
djah-yidjnjan
I'm holding you
ngey mahkih ngah-biyi bukah-marnu-yininj
me too I'm a man he told her
djah-lng-yidjnjanj borrkm--
I'm just holding you
djah-lng-yidjnjanj
I'm just holding you
njing ke bah djah-yin
you indeed you say
kardu biyi dah-yidjnjanj
you may have ha a man
kardu narrah-yonginj
you probaly slept together
kanh djirrbiyuk ?bard?
he whistle duck ?
ngey bah mak nabikeninj yarra-yo hey
I don't sleep with anybody hey
mayahmayahminj kah-yininj
got ma she said
djarrabay djah-bon ngey-- ngey--
come over here I'll-- I'll
ngey djah-yolh-mon-woyan
I'll love you
bukah-marnu-yininj
he said to her
kanidjah bukah-lng-yidjnjang
and he was holding her there
warlang kah-dududjminj
orange bat was coming back
bardi kah-dje-boyenj-ninj
and jesus he had a big nose
dah-bengkan keninjhbi
you know this whatsit
dah-bengkan kanunh
you know this
dje-no lajad na
a nose like that
kanh kah-dja-yininj kanh
that's how he was the
kah-dja-dudjdudjminj
he was coming back
kah-dja-dudjdudjminj kenbo
he was coming back and then
kah-wonang balah-redjiredjing
he heard them laughing
malung bulu ngayh-kurlkka
first I try to go and see them
kah-dja-lng-djemhdjemhminj
he sneaked up on them
kah-dja-lng-djemhdjemhminj
he sneaked up on them
bulkah-nang keninjhbi
he saw them whatsit
keninjhbi wayalhminj
whatsit shining light upon them two
bukah-lng-ngalkanj kanidjah djirrbiyuk
he found her here, the whisle duck
marruh mah nunda kirdikird kah-yin
what is this woman doing now
nunda kanunh ngah-yawayawaninj
this is the one I was looking for
bunu ngah-marnu-burlhmu malung
I'm going to come up on them first
kah-lng-burlhminj
and he came out
malung njing djah-yin
to start with, what are you doing
mak nunda dah-yidjnjiyan
don't hold this
ngey kanh biyi-ngu
me, I am your man
manjh kenjh-kun nunda
and why is it that
djah-lng--- kah-lng-marnu-yin
you're doing this to me
biyi-kinikun dah-bal--
another man you
dah-bal-worhdemH-mang
you mucked around with
bukah-marnu-yininj
he said to her
njing ke bah bulu dah-yidjnjan
but it was you really you were hugging
baka kirdikird-ngong
all these women
kanh-kun ngey ngah-boninj djarra
his is why I came here myself
nunda ngey ngah-ngalHngalkanj biyi-ngan
and for this I found myself a man
warlang kah-lng---
then the orange bat
bukah-lng-nahnang
he stared at her
marruh djah-yinmiyan
what would you say if
djeh-burruniyan
you and me fight with each other
kardu njing kanh
perhaps you
djah-yolh-mon-miniyan
you would like it
djeh-burruniyan
tha you and me fight
ngey mak nga-worimu
as for me I'm not worried
ngah-yimardek-
I will not
nga-yi-mardek-kong yibung
I will not feel sorry for you
malung ngah-dudjmu wadda-ngan-kah
I'll go back home first
ngah-monwoyan keninjhbi danj-ngan
I will prepare my whatsit spear
njing-karn kardu
and yourself I suppose
keninjibi dah-lng-
whatsit you'll
djah-lng-monworrun
you'll get ready
nunh bah yirru-dorrungh
and then with anger
dubmi ngah-dudjmiyan bukah-marnu-yin
I'll come back today he told him
kah-dja-lng-yurdminj
then he ran
nahda wadda-no-kah kah-burlhminj
he arrived there at his camp
nah-no bulu-no kanidjah barra-lng-ni na
his mother and father were both in
kah-barrhbobarrhbom?hminj? kanh warlang
he threw himself onto the ground this orange bat
kah-marnu-djirdmanginj
he stole her from me
kirdirkird-ngan kah-marnu-djirdmaginj
he stole my woman
kah-marnu-djird ?wa? bulah---
he stole wah--
bulah-wan malung danj ngah-buyan kanunh
?? firt I will kill him with a spear
bolung ngah-buyan ngah-buyan ngah-buyan kah-yininj
the rainbow serpent I'll kill him I'll kill hil I'll kill him he said
ooo kah-m-- kaykayminj
oh he was shouting
kahke kuyin wurd-ngan
no don't indeed my son
mak marruh djah-lng-yinmiyan bonj
don't do that that's over
haha ngey mak ngah-bawoyan
ah ah me I won't let it go
nunh be-- nunh bah
and this
ngey dubmi ngah-ngalkanj kirdikird-ngan
I had found my woman now
kirdikird kirdikird kanunh ngah---
this woman, this woman I
ngah-marnu-yolh-mon
I loved her
ngah--- ngah-dja-buyan kanunh
I'll kill him inded this
bolung ngah-dja-buyan kah-yininj
I'll kill the rainbow serpent he said
ooo kah-lng-?-yirru
oh he was so angry
kah-boninj nahda kah-yawayawanj
he went there and looked for
danj danj kah-yawayawanj
a spear he looked for a spear
kah-dja-yawayawanj kah-dja-yawayanj
he looked around he looked around
kenbo nahda kah-
and then there it
djurr-no wanjkih
one that looked sharp
kah-merlimhmerlimhminj
it was shining
ah kah-yininj
ah he thought
manjh kenjh mah nunh kah-
why is this one
wayalmu kah-yininj
shining he said
ngah-djih-kurlh?wun? malung
I'll quickly look around first
kah-dja-lng-bong
so he went
kah-ngalkang lawk
he had found a stone knife
weHe kah-yininj
wehey he said
keninjhbi-ngan
my whatsit
lawk ngah-monwoyan
blade, I'll make
nunh bah ngah-dja-ngurl-djabmiyan
and I will just poke his heart
kanh bolung mmm
of this rainbow serpent mm
manj-kerlk-dih kah-yininj [click]
I'm serious [withouth softness] he thought
kah-dja-lng-kurdme kanh
then he pulled out this
woh djal-wanjing
yeah he went on [Kunwinjku]
wanjing kah-dja-lng-kurdme kanunh lawk
he pulled out one of the blades
kah-dja-lng-ye-dududjminj nahda wadda-kah
then he brought it back home
kardu nahda kah-yinmi
he may have done that
djurrlbong kanh lawk
sharpened the blade
kah-nang kanunh lawk
he saw this blade
nunda bah dje-ngan-walung ngah---bah
and what if with my nose I
ngah-monwong
I prepared it
kardu dje-ngan kanh
like with my nose
ngah-lng-keninjbi-miyan
I'll whatsit
ngah-bodjobodjohmiyan kah-yininj
I'll keep rubbing it he thought
kah-dja-lng-keninjhbimong
and then he whatsit
kah-boledboledkang
he turned it all around
kah-dja-lng-bodjohbodjohminj
he kept rubbing it
kah-lng-monwong
he made it good
djurr-mah-kayen
the sharpest one
njamed djah---
and whatsit
kenh kanh lawk kah-lng-monwong
am this blade, he made it good
djurr-mondimondih-
nice and sharp
kardu neks dei kahnidja kah-lng-
and like the following day there he
yirru-- kah-lng-boninj yirru-dorrungh
he went with great anger
bunu kah-royh-minj
he peeped at them two
karr-walungwalung
from above
kanidjah barrah-dja-djudjuminj
they were swimming there
mak buka-bawoyan
she won't leave him
ngey bah kanidjah ngah-boniyan ngah-buyan kanunh
but me I'll go there and I'll kill him
kah-dulhnadulhnang
he looked at the trees
kanidja darnkih-no
there close up
ngah-keninjhbi-kalHmiyan kanunh
I'll whatsit climp up this
kod kah-yininj
paperbark tree he thought
kanh kod kah-dja-kalHkalminj nahda
he went up the tree there
barna kah-nan
what about you see me
bukah-marnu-yininj
he said to him
bolung kah-nan
bolung look at me
oh kanidja kuyin djah-lng-nan
oh there indeed I see you
manjh keninj-kun
what is it about
borno ngey kah-malhmalwon
hey you are teasing me
djehneng mak ngey
you'd think that I
nga-yenjdjuyenjdjung
don't speak
marlHmarlh-dorrungh
with irony
nunba bah ngey ngah-boninj dubmi
this is why I came now
yirru-dorrungh djeh-burruniyan
with anger so you and I have a fight togeher
bukah-marnu-yin
he said to him
kah-balarn-yenjduyenjdunginj bonj
they were about to start talking, but that was it
balkkan-dorrungh bukah---
with the throwing sticks he
bukah-marnu-wodnawodnang
he throwed them at him
kedked kah-dja-leng-yininj warlang
kedked the orange bat was doing
ah ngey kah-
ah you don't
ka-dord-ke
you didn't hit me
bukah-marnu-yininj
he said to him
dah-djih-wonan malung
you're going to feel it a bit first
djah-lng-danj-buyan bukah-marnu-yininj
I'll hit you with a spear he said to him
kah-dja-lng-wodnang kanunh danj
and he threw the spear
kenbo buka-wonang kah-lng-kayhmu
then he heard him he was shouting
kah-lng-wayHkarrinj
he was going up
nunh bah kurlba kah-lng---
and the blood was
kah-lng-boninj
was spreading
keninjhbi djirrbiyuk
whatsit whistle duck
kanidjah barrah-djarrk-nininj
they were there together
worda: kah-yininj
oh God she said
nunh ke bah [strangled voice]
and indeed this
djah-wayhmu djah-wayhmu
you move out you move out
kanidjah kah-rakkiyan
he's going to fall here
kanidjah kah-rakkiyan
he's going to fall here
djah-wayHmu bukah-marnu-yininj
move he said to her
kahke ngey mak dja-woniyan
leave it, I won't listen to you
nunda bah biyi-ngan kah-marnu-buninj
because you have killed me my man
nunda bah biyi-ngan ngah-marnu-yolh-mon-mininj
and this was my man that I loved
mak njing djah-marnu-yolh-mon-muni
I didn't love you
kahke nunda kanunh biyi-ngan kah-marnu-buninj
not at all and here you have killed me my man
kah-dja-lng-rakkanj kanunh
and then it fell the
barrah-djun-
the two of them
yirrhwalung yirrhwalung yirrhwalung bukah-kang
inside inside inside he took her
kanh warlang bukah-marnu-kurnh-nahnaninj woywoy
the orange bat was observing them poor thing
manjh keninjh-kun
why is it
kanunh ngah-lng-yininj kah-yin
that I did this he thinks
dubmi ngah-lng-kirdikird-dih
now I don't have a woman
barrah-djarrk-doninj
they two died together
kanidjah wah-kah
there in the water
kah-lng-kurnh-weh-minj
everything looks dark
keninjhbi balah-lng---
whatsit they
balah-lng-monworrinj
they turned themselves
manjh wanjkih
into animals
kanh warlang
the oange bat
kah-lng-monworrinj kanh warlang
he turned himself into the orange bat
kah-lng-yemi-karrinj
he hid himself in shame
nunh bah kah-lng-boninj wadda dun--- dun-kah
and for that reason he went to make his home in a hole
kah-lng-yininj
he thought
ngey mak nabikeninj ka-niyan
nobody will see me
mak nabikeninj nga-marnu-burlhmiyan
I won't come out for anyone
ngey-karn ngah-dja-nini djarra
I'll just stay there on my own
kah-orindj-wan kanh
he's orange the
en dje-no tu
and his nose too
kah-dje-dun-boyenjboyenj na bikos im
he's got big nostrils now because he
kanh keninjhbi dje-no imin--
his nose he whatsit
kah-dadjkang keninjbi-dorrungh
he cut it with the whatsit
kanh lawk
with the stone knife
bukah-dje-dadjkanj weh-no
it cut his nose poor thing
en kah-dja-kurrubruk dubmi mak ngarra-niyan kanunh ngong
and that's true today we don't see these guys
djeh-ngalkiyan kardu wadda-dun am-- dun
we'll find its home in holes am--
yibung-karn djirrbiyuk
as for the whistle duck
balah-dja-ni kanidjah keninjhbi-kah
they are still there in the whatsit
what would you say for billabong
rorr-bo-no kah---
in the billabong
kanidja berrh-- bulnu kanh balah-ni dubmi
there open-- they live there now
balah-lng-monworrinj keninjhbi djirrbiyuk-ngong
they turned themselves into whistle ducks
yibung-karn bolung
as for the rainbow serpent
monburrinj bolung munguyhmunguyh
turned into a rainbow serpent for ever
keninjhbi kah-
whatsit it
nunh bukah-yaka-kuno
when it rains for him
ngarrah-nan kah-rarraddi:
we see it shining
kah-yaka-kuno
when it rains
nunh bah ngah-bengkan kanunh
but I actually know that this is
bolung
the rainbow serpent's
en deds di end
and that's the end