The Emu Story
This story was told to Nick Evans and Murray Garde at Weemol Spring in 1992 by Jackie Chadum and Don Buninjawa, with some prompting and further commentary by Maggie Tukumba. It has been transcribed by myself, Murray Garde, and Sarah Cutfield, with assistance at various points from Maggie Tukumba, Alice Ngalkandjara, Peter Mandeberru and Dudley Lawrence at transcription sessions in 1992 (Maningrida), 1995 (Bulman) and 2017 (Weemol). It is a complex performance, partly in medley style and partly with long lively stretches of parallel talk by Chadum and Buninjawa, interspersed with laughter and singing. The speed, complexity and overlapping voices have held us back from having a complete transcription of the text, but about 95% is transcribed and translated to a reasonable level of accuracy (work is still in progress).
Thes story of Emu, originally a greedy old woman who sent off her children to hunt for her and then ate all the food they brought back, is widespread in Western Arnhem Land – see Evans, Gangele and Karlarriya (2017) which contains transcriptions of two more versions, told in Bininj Kunwok.
The story begins by linking the sore foot of one of the characters (without naming the character suffering from it) to the plant known as wayakwayak (Ipomoea sp.), said to have poked him in the foot. Later on this plant is linked back to characteristics of the emu, namely its feathers. Two pairs of birds – two crested pigeons (lumbuk) and two crows (wakwak) lance his sore and get spattered with blood and pus. The kangaroo hunted by the hero is characterised as a kurdubu, a large male antilopine kangaroo. The kangaroo-hunt is described in lengthy and graphic detail, including the slotting of the spear into the hook of the woomera, and the involvment of weleyh, the red-winged parrot, which carries some of the half-cooked kangaroo meat on its shoulder and burns itself there, giving it its characteristic red shoulder-patch.
There are likewise some graphic descriptions of greed, selfishness, hunger, ways of staving it off with small food items, and the disappointment of turning up to find no food left. The verb for 'denying' or 'withholding' is used to describe Emu's behaviour: mey-ngong bulkah-darahminj 'she withheld all sorts of food from them', and they were reduced to chewing sugarcane (Heteropogon triticeus): kurndjilk-yah bûlah-babanginj 'they were just chewing bush sugarcane'. Once the kangaroo is speared, they deal with their most immediate hunger pangs in this way: they singe off the fur so as to half-cook the meat prior to carrying, then eat the madjarnghno or small delicacies (offal) that can be cooked quickly in the ashes as the first part of the meal. And when Emu gets her comeuppance by arriving back after all the meat has been consumed, kenbo kah-naninj morlom 'all she could see was the flies (buzzing around the remnants of the food)'.
Confronted with Emu's greed, the children use a trick to get food for themselves. When the children turn up at Emu's camp with the kangaroo, she shamelessly and egotistically says bulahmarneyiburlhminj kunj-ngan 'you've brought it for me, my kangaroo', in a long line that terminates with the term bunkurdidjbunkurduy, Emu's dreamtime name in the Dalabon version of the story. The children send Emu far away so they can prepare the kangaroo to eat – here, she is sent to gather munmun, a herb whose leaves are used as flavouring when kangaroo is cooked in ground ovens, as well as paperbark, used to wrap the meat when placing it in the ground oven. They name three places where she can obtain these plants: Yunyun, Borrombod and Yurlwa. Several times she reports on having found enough, but they call out to her to go further, and as in the other versions they butcher, roast and eat the kangaroo. Quail hides himself away to finish eating the tailbone. At the end of the story, Emu 'sulks, poor fellow' (kahlngkodjdadjminjwurd) and sings a song with the words Kamarung Kamarung Djerlbe Djerlbe Borrombod borrombod Yurlwa Yurlwa Yudyud Yudyud. The three last word-pairs recapitulate the three places where Emu was sent off to gather the munmun grass (with slight phonetic differences attributable to song-language distortions in pronunciation).
This version of the Emu story also makes some explicit some intresting links between plants involved in preparing the kangaroo feast, and physical characteristics of the emu: wayakwayak, the Ipomoea root which was cooked with the meal, has hair like the emu's feathers, and barram, the 'emu foot hibiscus', whose leaves have three lobes like the toes of an emu's foot.


Notes
There are two distinct species of munmun (Borduk et al 2012:98-9): Sugarbag Grass, Alloteropsis semialata, and Kangaroo Grass, Chrysopogon fallax. >br> In other versions of the myth to those presented here, other names are given (Murray Garde, p.c.), e.g. in the Jawoyn version recorded by Francesca Merlan, Emu gets sent off to a place called Gumberriyn. The places to which Emu is sent do not appear to be the same, from version to version. Rather, the logic seems to be that she is always sent off a long way from the home base.
References
Bordulk, Daisy, Nikipini Dalak, Maggie Tukumba, Lily Bennett, Rita Tingey, Margaret Katherine, Sarah Cutfield, Manuel Pamkal & Glenn Wightman. 2012. Dalabon Plants and Animals. Darwin: Department of Land Resource Management.
Evans, Nicholas, with Toby Gangali and Jimmy Karlarriya Namarnyilk. 2017. Three Greedy Emu Myths. In Murray Garde (ed.), Something About Emus. Aboriginal Studies Press. Pp. 115-128.
Maddock, Kenneth. 1975. The Emu anomaly. In Les R. Hiatt (ed.) Australian Aboriginal Mythology. Canberra: Australian Institute of Aboriginal Studies. Pp. 102-122.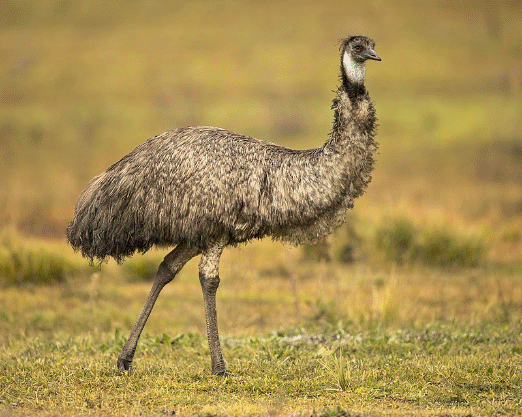 kanhda manj-ngong, djirrirddi-ngong, kerninjhbi-ngong, bûlûlûk-ngong
All that mob of birds, quails, whatsits, the quails we call bûlûlûk
balah-barninj balah-barninj
they all left, they all left,
kaye-nininj
while she (emu) was sitting there.
wawurd! djah-dokkan
Hey brother! You get up!
kunj boyenjboyenj kah-
There's a big kangaroo
kah-malay-nininjj
He was sitting there in the morning,
ka- kardak-ngan
my uncle.
kurdubu kanh
a big kangaroo
ken djawayakwayak kah-kerninjhbi-minj
Um, he had a sore foot, whatsit,
kah-dengû-moh-ninj
He had a sore on his foot
kah-kurd-yo, kah-kurd-yo
He was crawling
kah-kûrd-yo kah-dengû-moh-ninj
he was crawling, couldn't walk
jet jet mining na
That's what it means.
kah-kûrd-yo
He was crawling
bulah-danj ken ruma lumbukko
They lanced.... I mean, those two red-eye pigeons
bûrrah-marnû-bidjingh, bûrrah-marnû-bidjingh, bûrrah-marnû-bidjingh
They were lancing his foot, lancing it, lancing it.
dhowk, kahlng-danginj
Bang! It burst open.
bunu kahlng-mumu-djurrkminj
It spattered the eyes of the two of them.
kanh kalng-mumu-darhmang kanh wakwak
That's why Crow has a stripe on his eyes.
Nomada kah-mamang nda kunj-mûn kah-yininj
Never mind, let's just go after kangaroo anyway, he said.
kanunh djung kanh djihbi kanunh
Way off there to the north.
wakkamalk
(With) his stone spear
kolb!
he slotted it into his woomera
kalng-yamu wakkamalk
He speared it with his stone spear.
bûlah-dengû-dukkan yah kahyininj
They trussed up its feet, he said.
kerninjhbi yeah
Whatsit, yeah
bûlah-dengû-dukkan
They trussed up its feet.
bûlah-dengû-dukkang
They trussed up its feet, ...
djoh-yih bûlah-dengû-dukka
they trussed it up with bush string
djoh-yih bûlah-dengû-dukka moh-no bûlah-moh-dabkang
they trussed it up with bush string, and they blocked up his sore.
danj bard kahlng-mey borndok bard
he picked up his spear and his woomera
kah-djalng-kuni-djemhdjemh, ken kalng-bong bûlah-boy-buyhwong
Then he sneaked up, oops, he went along and showed him that kangaroo
nda mak kah-bamû-kuni-djemhminj
He couldn't sneak up on it yet
bûlah-djerrh-kakang
they took their dillybags
"marrûka-marrû kahboyni?" kah-yininj. Ka-wenjhminj.
'Where is it?' he said, it's tricked me.
nûndabay kanh kaboyni bûlah-marnû-yininj
There it is, it's sitting down, they said.
kah- -kahdeh-kurnh-yidjnjaninj kurdubu
There it is holding the ground, in the morning, the kangaroo.
kordow kandji-ko barrah- --
Brolga and jabiru, the two of those,
barrah-buh-kardabunkardabunminj
because they were tall ones
bornorrong-ko
and two brolgas
keh-boy-buyhwong
The two of them showed him
kom-ngalûlû kah-danginj
He poked his head out to look around surreptitiously
bûkah-nang kah-warnam-buddi kanh kurdubu mûn
He saw it crouching there
ngale djarrabay
Hey, over here!
dih djah-boy-nanHnan nahda ngah-borled kah-yininj
Keep an eye on that kangaroo while I go round the other side, he said.
kah-dja-borledborledminj djolambard
He just went right around, to a good hiding spot
djolam-nang kah-djolam-nang ngalewoh
He looked from the hiding spot, hey!
bûkalng-dabkang kah-yininj
He's blocked it off, he said.
kahlng-marrkidj
proper good one
djemhdjemh
sneaking along
kah-djalng-djemhdjemhminj
Then he snuck right up
kah-djalng-djemhdjemhminj
He snuck right up
bûkah-redjkûredjkûrnhminj
He went way up closer now
nang bûkah-nang kah-
He looked, he saw him,
kadjamedmûwarnambuddi
He just looked sideways at him squatting across
mah nidjarra wanjh nunda murdikka
[Side remark:] Hey theres a car coming up
woyh nûnda murdikka
Hey there's a car here
kerninjhbi kurdu
That whatsit, that big kangaroo
kemûrnyunj kahlng-kemûrn-yunj-no
He stalked up with his woomera held back
wukumab bûkalng-marnû-wukumabminj kanh danj
He hooked it up, he hooked up that spear for it for him
kah-kolngHmiyi-bong
He slotted the woomera hook in ready.
derndernh kah-mey
He tested it out
kolngHmiyi-bong
He slotted it in
kalng-kolngHmiyi-bong
He slotted it in
derndernh kah-mey
He slotted it in
ngalewoh bonj
"Hey, that's right!"
ka-dja-warnambuddinj kah-dudjbarlerre mah bûkah-mobarlh-dengkomHminj
It was crouching there, a euro, he speared it in the knee
mobarlhno-duninjh
right in the knee
bah djal mobarlh-dengkoHminj
Got it right in the knee
kirribid kurrang ka-wurrbadjkang
He knocked it dead now, unconscious
ee wawurd-ngokorrng ngorr kah-marnû-yaminj kunj-ngokorrng woy balah-yininj balah-yurdûyurdminj wurdurd-ngong kanunh balah-yorrkanj
"Hey, our big brother, he's speared a kangaroo for us, come here!" they said, they came running, all the children.
... djirrirddi-ngong wakwak-ngong keninjhbi ?-ngong
all the quails, the crows, the whatsits,
bukah-manjhmanjh-buninj worde wawurd
He's killed a whole lot of game, hey, our big brother
...barrah-yininj
that's what they said
dekombedekombe balah-yininj
?
bûlah-worrhminj bûlah-worrhminj bûlah-worrhminj bûlah-worrhminj
they made a whole lot of cooking fires
kom komdengkomh bulu kah-marnû-komdengkomHminj njerrh... njerrh-wow
He finished off by knocking it in the back of the neck and lifted up the body
kanunh keninjhbi
that whatsit
kalng-njerrh-ngorrkang
He carried the body of the euro
lumbuk-yih ko... kahlng-njerr-dolhdolhminj
Red-eye pigeon ... (the hunter) appeared with the body
kah-dja-njerrh-yerrûhyerrudjminj njerrh-wodnan
He came on back with the body and threw it down
ngale djarra-kih kanh ngûrrah-wangarreburrng mah
Hey let's part-cook it on this side first
kenbo wangarre-no ngarrah-marne-yerrudj-mang
Then we'll take back the cooked part
keninjhbi bahdi
something, i don't know what name
bunkurdidjbunkurduy kanh bukah-darhdarahminj kanh keninjhbi
But he withheld it from that old lady emu
bukah-rdahrdah
She used to withhold
mey-ngong bûlkah-rdarahminj bûlkah-rdarahminj, mak --
She had been withholding all sorts of food from them
mak bûlkah-ngabbuy kanh wurdurd-ngong mardmardmardme balah-dja-ninj
That emu hadn't been giving them (any food), those children were really hungry
kurndjilk-yah ba bûlah-babanginj
They were chewing bush sugar cane (in the absence of water)
kurndjilk-yah
only sugar cane
bûlah-babanginj
They were chewing it
djarra bengmak ngûrralng-wangarrebun
You mob singe off the fur here
madjanghrno nûlah-nguyan kah-yininj
You can eat the quick-cooked offal as starters, he said.
madjanghno bûlah-dja-ngunj bûlalng-wudjkang
They ate all the starters and finished it up
"Yalah-wangarre-wowh!" yah kalng-mey kanûn keninjhbi-yih
"Let's lift up the half-cooked meat!, he picked it up, whatsisname did
weleyh-yih yah-banganj
Red-winged parrot lifted it up
weleyh-yih ka-berrmirni-ru kah-wangarre-wodnang igin
Red-winged parrot burned his shoulder when he was lifting the half-cooked meat up again
ngaa kalng-mirni-ngirûngirmûng
Yeah, he's got red shoulders
kahlngh-kawoh-mirni-ngirûngirmûng
Then he got red on his shoulder
kenbo ?djirrhdjiri ?kalng-ye-komhmu
...
kah-djaye-wangarre-wowhmey
Then as he picked up those half-cooked parts
kalng-wangarre-yeyûrdminj kanunh kerninjhbi
He ran along with the half-cooked meat, whatsishname
lumbuk-yih
red-eye pigeon
yilah-wangarre-wûrd
We'll chuck it down now
ngalu djarrabay mulah-ngan bulah-marne-ye-burlhminj kunj-ngan wordeyh-ngan wordeyh-ngan bûlah-marne-ye-burlhminj dja-yininj bunkurdidjbunkurduy
Here's my auntie! You've arrived with my kangaroo for me, my big brother, my big brother, you've brought it for me, she said, the old lady.
kerrekah nidjarra bulah-marnu-ye-wurdurd-kadji-? XX walkwalk wobun wa nurrah- --
...
murlah-kadji-ngan murlah-kadji-ngan ka-yininj
Oh my aunties, he said
korremu kah-dja-kohyin-yonginj yoyongHminj mahkih
[meaning unclear]
bunkurduy bunkurduy bunkurduy kunwa XX kunwa narrah-wurdurd-ngan woy nalah-dudjmu ( laughter )
bunkurduy bunkurduy bunkurduy kunwa kunwa, you children of mine, come back
bulah- -- bulah-ye-korrHminj bula-kerriwarddamawarram
[meaning unclear]
bulah-kambum
they cooked it in the ground oven
bulah-bulnamûng
they buried it
bulah-bulnamûng
they buried it
marrûh mah ?nalng-yinmiyan
?where will we do it
ngurrah-munkuyung-ngan ngal-kohbanj kah-beyungiyan keninjbi
We send the the old lady away, she will fetch whatsit
munmun kah-beyung
she gets the grass
kadjah-dorrung
with paperbark
yow kadjah-dorrung kah-beybeyHyungiyan
yes, she will get it with paperbark
XX bah bulah-ko-munkyung
XX that's why they send her away
ngaa bulaye-kom(h)-munkuyung
yes they send her away
mm dah-beyung
mm you get it
murlah bulah-marnu- --
mother, they --
kunj keninj mangam
the kangaroo ?got
nga-miyan kanh
I will get that
munmunh kah-yininj
grass species, she said
Yunyun dah-beybeyHyung
at Yunyun you get it
bûlah-marnû-yininj
they said to her
kanh Borrombod XX
There at Borrombod
nga Borrombod
yeah at Borrombod
Yulwa dah-beybeyHyungiyan bûlah-marnû-yininj
at Yulwa you will fetch it, they said to her
wurdurd-kadji-ngan ?mari-kadji ?ngaba-wurd ?nganda-wurd kurdubunkurdubun wal walkud XX
...
bûla-dja- --
they just --
kah-dja-bobong:
she just went:
kah-dja-boboninj
she just went
kah-dja-bobo
she just went
nidjarra kah-yininj
here she was like this
dakkurrûng bah-durûng nûnh
?
nûnh bahdi
but that other one
nûnh bahdi bûlah-marnû-yininj
but they said to that other one
biyongkih dah-dja-beyung biyongkih djah-bon bûlah-marnû-yininj
on ahead you fetch it, ahead you go, they said to her
kah-dja-bong kah-dja-bong kah-dja-bong kah-dja-bong kah-dja-bong kah-dja- --
she kept going, she kept going, she kept going, she kept going, she kept going,
nidjarra kardû kah-wurrh- --
here maybe it's grass
wurrh bad kah-wurlhmû wurrh nga-namûng
the grass, the rocks are hot I'll put on the grass
biyongkih ?di-dja-bon bûlah-marnû-yininj
you just go ahead, they said to her
bobala (laughter)
Poor feller
kadjawowbakadjawowow kurr buradja kabakawk kaye-wurrh dadjkayh- --
[meaning unclear]
?keninj namama (?nga-mamang)
whatsitsname
nûnh bahdi
that other one
nûnh bahdi
that other one
biyongkih-duninj djah-bon
you go a long way ahead
kah-dja-biyongkih-duninj
it's really a long way ahead
munku-nang bulah-munkunang komdjerrdjerrh
they watched her leave and looked up to see how much farther there is to go
biyongkih kalng-bong
She kept going along (away from where they all were)
korre nûlah-werrhmu
Take it out of the ground oven already
korre werrh ya
Just take it out of the ground oven
barrah-barrbbarrahbong barrbbarrabong bûlah-barrbbarrabong ?welûng darrûno munguyhdjam-no bokno bok XX
they cut up the ? emu, cut it up, its leg, oh everything, its tail, XX
djano berrûno bûlah-berrû-mey munguyhdjam-no walayno korrekûn djud daye-dadj kodj daye-dadj bûlah-kang
XX, brisket, they got its brisket, all kinds, its leg, , all the butchered parts, you cut its head, they carried it
wanjing wanjing wanjing wanjing bul kah-dja-karra-ngabbong wudj
he gave them all one piece, one piece, etc, until it was all gone
nda ngahlng-ye-walkkanj
I'll hide this one
nûnda djirrirddi
this brown quail
bokno kal-ye-walkkarrinj nau kal-ye-bulnamirrinj
hid the kangaroo's tail for himself now, he buried it for himself
kanh merHmey
that Button Quail
merHmerH: kah-yininj
MerHmer! (call of quail)
Merh!
Merh! (sound of button quail)
yow kanunh nau
yes that one now
wal kahlng-yuh- --
Well he slep..
kal-yo-ngurd
it slept quietly
warre kinikin-kûn balah-dja-bon
Meanwhile the other ones kept going
balah-dja-yarlarrminj kanh kunj-don-dorrungh kanh --
they scattered with the kangaroo that --
keninjhbi-no walay-no
those whatsitsnames, butchered parts
walay-no-dorrung
with those butchered parts
balahlng-karra-boninj balalng-bong balalng-bong balalng-bong balalng-bong balah-wuywudjkarrinj
they all went, they went, they went (etc), they finished it themselves
bûlah-nang kûhdû
they saw him thus
bûka-nang kanûnh
he saw that one
bornorrong-yih bûkah-nang ka-bon, Ngale kah-dudjmû!
the brolga saw her (emu) coming back, "Hey she's coming back!"?we brought it back
korre bang bornorrong korrekunh balay
?the brolga had already been left a long way away
kahlng-komHminj
he kept going
kandji-ko
brolga and jabiru
dudjminj nau imin luk XX
...
kandji-ko
brolga and jabiru
ka-yelûng-dudjdudjminj
then he went back
kenbo kah-naninj morlomorl
later on he saw only flies on the scraps
wow yah bul kah- --
yes, she only saw
wordeyh manj ?man nda balalng-karra-njonbong kah-yininj
goodness, ?all this meat they've all gone, he said
wurdurd-kadji-ngan balah-bong XX
my children they've gone XX
marrûh mah nalah-bong marrûh mah nalah-bong
where did you mob go? where did you mob go?
kenbo bûkah-wonang merhmer: kah-yininj
then he heard 'merhmer' (the call of the Button Quail, Turnix spp.), he did
XX -yidjnjaninj rakalk
...
merhmerh kah-yininj
'merhmer' he said
ngale ?kanubarrûbe kardu kah-yenjdjung kah-yininj kaye-warrwarrkang kanh kod kaye-warrkang
Then 'up there' she said as he flew up (meaning not really clear)
djirrirddi kah-yininj
Djirrirddi! he called out
djirrirddi: bûlal-marnû-yininj wulu-munguyh
Djirrirddi they called out then, he was going to say that forever now
olagija na imin guweiguwei
then they all went away (Kriol)
ulut na kahlng-dolkang
all of them flew away
kaye-wokworrowkminj ?warr
he jumped up
kaye-worrowkminj bûkah-ye-barlabarlarnhme kah-ke finish
he jumped up (but) he missed him, nothing, finished.
kanh djadj kaye-yo kanunh
that digging stick ?stayed that
kardubunkardubun
really long one
kanunh kanh kunj kanunh balaye-rdarHminj
that kangaroo now they wouldn't give it to her (Emu)
kanunh-yih na kahlng-mangû-djabmirrûnj
then she stabbedherself in the throat (by throwing a digging stick at Quail, which boomeranged back and went down her throat)
mangû-djabmirrinj imin meigim mijel
It got stuck in her throat and she became
imin meigim misel imiyu XX
She turned into an emu
im gada longnek na
He's got a long neck now
en det dengu-no kah-nunh barram-yih kahlng-
and that (emu's) foot with that Emu's-foot (hibiscus) (Hibiscus meraukensis).
kalng-dulubun XX barram-yih nûnh
he speared it with the Emu's-foot (hibiscus) now
det dengu-no nau wen im --
that foot of his when he
keninjhbi key-
whatsitsname now
barram
Emu's-foot (hibiscus)
bah burda igin kanh karrûmo-no
but also the Grass-leaf yam (Curculigo ensifolia) that lower leg
keninjhbi ke ngûrrah-wokan
whatsit now we're telling the story
wayakwayak mey
Grass-leaf yam (Ipomoea graminea) food
wayakwayak
Grass-leaf yam
kah-dja-barram kanunh kanh barram kanh ngûrrah-wokan wayakwayak mahkih
it's that Emu's foot (hibiscus) now that Emu's foot we're talking about, and the Grass-leaf Yam
kanh kahlng-duluburrinj
that's when he speared himself
kalng-dengû-duluburrinj
he speared himself in the foot
kenbo kalng- kalng-kodj-dadjminj-wurd kahl-yininj kamarung kamarung djerlbe djerlbe borrombod borrombod yurlwa yurlwa yudyud yudyud [trill] kahlng-yin
after that he sulked he sang 'kamarung kamarung djerlbe djerlbe borrombod borrombod yurlwa yurlwa yudyud yudyud [trill]', he did
kamarung djerlbe djerlbe borrombod borrombod
...
bah nûnh mah djanj-?mun ?deh ?warm bah XX
...
ngurrah-X-dorrung bahdi kanh XX
...
kanunh kahlng-yininj
that's what he did
kamarung kamarung borrombod borrombod yurlwa yurlwa borrombod yurlwa ngurrH ngurrH XX [trill]
[song words]
kahlng-danginj
he ?stopped
binij olagija imin guweiguwei
They all finished up and went off
im imiyu nau
She was an emu now
finished now
(the story is) finished now