Maggie Tukumba: Buladjbuladj story
Maggie Tukumba telling the Buladjbuladj story. Recorded by Nick Evans.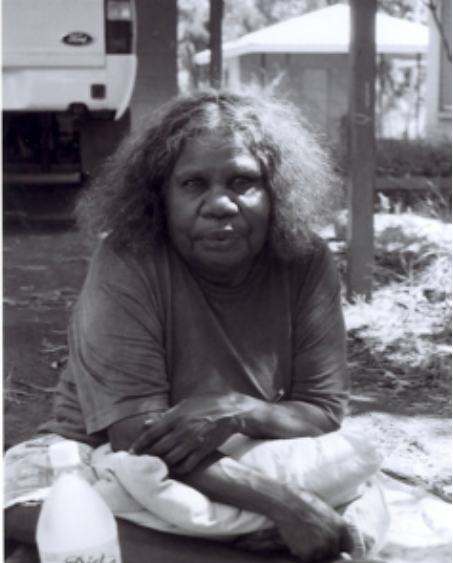 nunh kanunh buladjbuladj ngurrah-kolhngunj
we drank his pus - could also say nurru-no ngurrah-nurru-kolhngunj
ngadno ngorr kah-marnû-monwong ngadno
He made a water well for us.
nunh kanh ngurralng-kolhngunj budjno, nunh
We drank his weewee,
nunh ngarrah-don balah- -- balah-don biy kirdikird wurdurd
and people were dying for ever (like: no life afterwards)
mak balalng-yawoyh-dokkan
i.e. we (aren't) alive for ever, no getup any more from graveyard
yibung mah kardu
But him now
kardu kanh kurrnga budjno ngurraye-kolhnguy
Like if we had drunk the urine of the moonGeorge - 'that only new, idea, that one' - i.e. whereas maybe if we had drunk the piss of moon instead...]
nunh kardu ngarra... yawoyh-dorrng...-marrangi, wanjh kanh kayin kurrnga kalirrkyu
we would have come back to life again, like that new moon
munu mah ngey men-ngan ngah-yin ngah-bengdi
like mela jinggabat
kardu kanunh bulu-ngokorrng wanjh nahda karr kani
maybe bla our dedi (who sent jesus down), to give us one more chance
nahda heaven
up there in heaven
kardu kanunh rul keh-monwoninj
they two made those roles (keh- for buladjbuladj on one hand, and kurrnga on the other hand)
bulu ngokorrng kanunh yibung kahlng-bong nahda
our father, who went...
dorrngno karr ngorr kah-marnû-ni
he sits down in heaven full alive for us, waiting - whereas buladjbuladj bin leave us
nidjarra mah ngorr kahlng-bawong wangirrih ngarrah-ni
he left us behind and we're here alone
wehkulano-dorrungh (with sin) ngarrah-ni
we sit down on earth, full of sin
ngorr kah-ye-bawong wangirrih
(God) left us behind
ngorr kah-ye-bawong wangirri-kah nidjarra ngorr kahlng-yeburrbadminj yibungkarn nahda kahlng-bong,
imin livrim wi - i.e. he forsook us - he bin keep going take all the good pleasant things for himself [ngorr kahlng-yeburrbadminj], imin liverim that one
ngorr kah-bawong karr nunh kah-ni kanihdja
He left us and he lives up on high
wadda-burrama-dorrûng
in the good place
kardû kanunh rul-no ngurrah-marnû-wan kardu keh-monwoninj
we have to follow one of those two paths, that they (contrasting) made,
kanunh kurrnga, bulungokorrng
the moon, and God