Two Stories about Vai Tango
Putai Kairae is telling two traditional stories about Vai Tango, a famous cave on Maꞌuke. It was recorded at her house in Kimiangatau (Maꞌuke) in November 2013.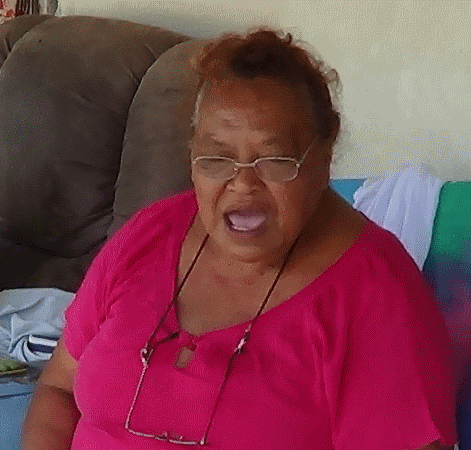 Two Stories about Vai Tango
tei te ꞌōire ꞌua nei ꞌoki tēnā vai
That cave is just by the village.
āe, vaitata ꞌua
yeah quite close
tēnā te vai
That's the cave where
E rua ꞌangaꞌanga i tupu ana ki reira
There were two things that happened there.
Tēia tangata, ko Tanga Patoro.
This person, Tanga Patoro.
Tanga Patoro tōna ingoa.
His name was Tanga Patoro.
Te araara ꞌoki i roto i_te-i tētaꞌi tauꞌaniꞌaniꞌanga rāua ko tētaꞌi toa.
The story of a fight between him and another warrior.
Puta te vaꞌa i te mōmore.
The mouth was stabbed by a spear
Mama mai ki tētaꞌi tua.
emerging right through to the other side
ꞌAꞌati ra ꞌoki i te reira aia
and he broke it (the spear)
ꞌAere mei aia i reira ki raro i tērā vai Vai Tango,
So he went down to Vai Tango cave
te ngāꞌi tērā i ꞌakamaꞌu ꞌua ai aia i tana puta,
that was the place where he bathed his injury
i raro i tērā vai,
under that water
Vai Tango.
Vai Tango Cave
Te ngāꞌi katoa o te rā i-i kite ei tēia-tēia toa o ꞌAtiu, ꞌAkaꞌina
That is also the palce where this warrior from Atiu, ꞌAkaꞌina saw...
i te-i te Vaꞌine te ingoa o tēia vaꞌine ko Ākētūrere.
...the woman. The name of this woman was Ākētūrere.
Riri ana au mē kite au i te kōrero o te ꞌAtiu ko ꞌĒtūrere.
I am angry with the the Atiu story that's it's Ētūrere.
Kāre e kō ꞌĒtūrere ꞌe vaꞌine Maꞌuke tā-tērā vaꞌine.
It's not Ētūrere. That woman is a Maꞌukean.
(K)āre i te vaꞌine ꞌAtiu ē
She wasn't an Atiuan woman.
Nā rātou i ꞌakaranga mai ko tērā te ingoa.
And they (the Atiu people) called her that name.
Ko ꞌĒtūrere tā rātou ingoa.
Ētūrere is their name for her.
Ko te ingoa tikaꞌanga ia te ingoa o tērā vaꞌine.
That's the correct name for that woman.
Tae mai i reira tērā..
So he got there (to Vai Tango)
tei te mōmē vai ꞌoki.
bathing
ꞌAere mai i reira a ꞌAkaꞌina kite i reira i tērā vaꞌine.
And so ꞌAkaꞌina went there and saw that woman.
Kite ꞌoki aia i_te-i te mōmē vai ꞌoki.
Saw her bathing.
Te etene ꞌua pa'a i tei reira tuātau,
At that time perhaps the 'heathens'
kāre ꞌe kākaꞌu mōmē vai āe.
didn't have clothing for swimming eh
Inārā mōmē vai.
but just bathed
Kite aia i reira i ngā ꞌūꞌā i tāna araara i araara.
So he saw her thighs and this is what he said.
ꞌAkarongo koe mē ꞌoki koe ki te kāinga ui koe ki tōꞌou Papa.
You listen, when you go home ask your grandfather;
ꞌAkarongo koe i tētaꞌi au tangata mē araara kanga ꞌaere ki tētaꞌi aronga.
listen to people when they joke or tease another
Ko te ngāꞌi tērā i tupu ei tērā araara.
That is the place with this expression began.
Ā i te rā i tupu ei tērā araara, te araara a ꞌAkaꞌina.
Yes, the day this was invented it was what ꞌAkaꞌina said.
I kite ana aia i tērā vaꞌine.
He saw that woman
Tangata ꞌAtiu tēia.
He was an Atiuan man.
ꞌE toa rāi aia.
He was a warrior.