The Kokovasi
This is the story about the Kokovasi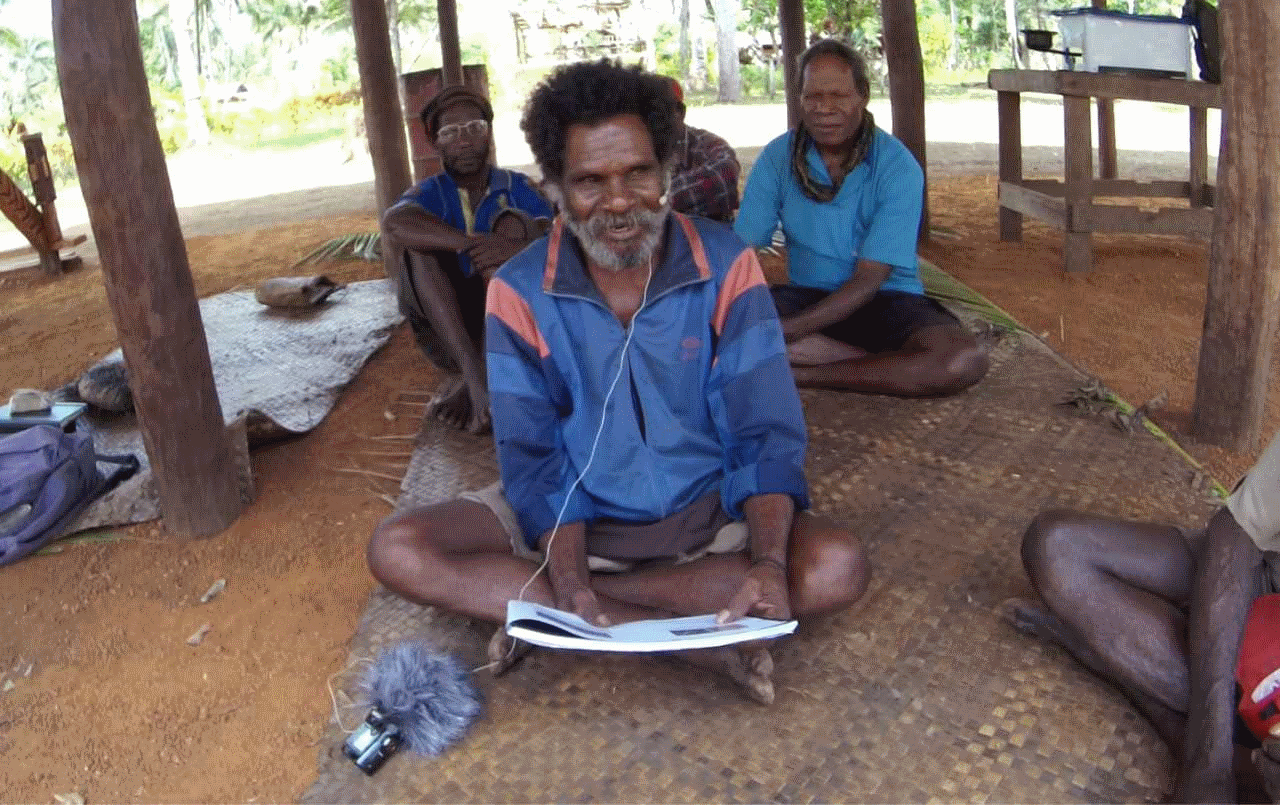 Ge yaketa Kokovasi gym,
You see it here, Kokovasi,
bä gym, binga nanotan.
it calls from the barren place.
Binga nanotan ah...
It calls from the barren place....
gea notamn e~
when it's calling out~
kewonga wái bä yutan wái
once finished it will move on again.
Wái bä yman e~. ämb wnan wái bä naviyot
It will go again and sit on another tree
de fan kndekndeyan fiviyan wái bä nuavot.
and call again in the open savannah.
fanan e noavt e
At the savannah it calls out~
eiyaret e
You hear it's many calls,
är gea yngm, bä tiyarenga "Oh Kokovasi notn."
if a person will go s/he hears the Kokovasi crying.
Fanan notan.
It calls out in the savannah.
wái gea nangota, bingan gea notna
if it again returns to the barren place,
ärm bä tierenga oh kokovasi bingan notan
a person will hear it, "Oh Kokovasi is calling in the barren place!"
är gea kt wei-weiam bä yramet,
if a person will be there he will be sad
Kokovasi denamn bä ym.
Kokovasi is like this
Kokovasi wái ge ymn,
Kokovasi is always
är gea kawaldanga.
if a person dies
bä yngm ynama är kuwanunga
the person will go towards
a yngm yna wakeht
this way to see
yande mna srvav giya yaketa
he will see his place
yna Kokovasi giym
This Kokovasi, you see...
kt ä nowavt.
it will call there.
yna är ah ymron mnamn
(the Kokovasi is) angry at the person because
bä ynama narend ei
he's wandered this way
ka nawalndai yna är
where this person died
fronde gs tmaro
he being the dead person
gn nawalndai foyo bäbä noavot ynamn.
it is calling because he's dead.
yna är ah ymron yna kokovasi ym.
Kokovasi is angry with this person.