David Karlbuma: Yayminji
This recording was made during a fieldtrip to Yayminji and surrounding areas in 1995 with Nick Evans, George Chaloupka, Pina Giuliani and Murray Garde, to record rock art, knowledge of traditional plants, and Dalabon and Kune language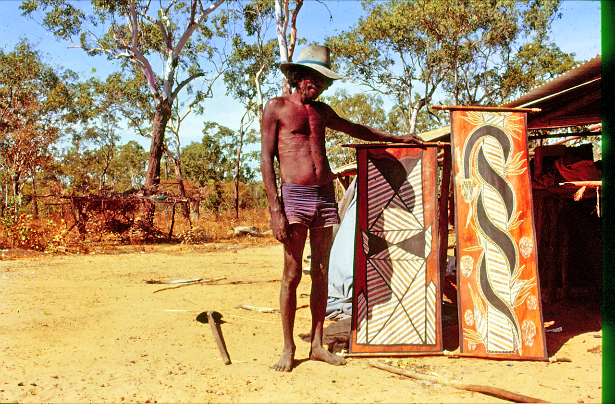 nûnda yibungkarn Korrnjelûng
This place here, Korrnjelûng
Djenewelkwelk
Djenewelkwelk
kuwadda kahyirriyo
the place here
kerninj kurnh walûng
from whatitsplace
Burrinjdjibburrinjdji
Burrinjdjibburrinjdji
nûnda yibungkarn Korrnjelûng
At this place Korrnjelûng
ngarrah-burlhminj
we came up here
nahda ngarrah-dudjmiyan
we'll come back this way
kono ngurrah-miyan
we'll collect flowers
waddakah ngarrah-yelûng-ye-dudjmiyan
then we'll go back to our camp with them.
nûnda yibungkarn
This here
Korrnjelû, baddunno
Korrnjelû, the cave
djarra yalah-yo
It's here.
bulu-njelng
Our father (Mandarrk)
yabbunh bulu-njelng
Our two fathers
djarra nûnda wadda
This was his camp
yeah, wurdurd
Yeah, children
yalah-wurdurdninj
We were children
wadda yala... yala-yu
the place where we slept
yala-yonginj
where they camped
korrûhkûn
In the olden days
yalah-wurdurdwurdurdninj
when we were all children
kirdikird yalah-yidjnjey
have wives yet
kanunh nahda Madjinbardi
When I got back from Madjinbardi
yalah-, yalah-bimbong
we painted it
bim yalah-yunj
we put this painting here
nûnda badkah
on this rock
nûnda yibungkarn wadda
At this cave
nahda mahkih ngarrah-dudjmiyan kenbo
we'll come back again tomorrow
kenbo bulno nol ngah-buyhwoyan
I'll show them to you tomorrow
nûnda wanjingh
this one (pointing to one painting)
kunj, kunj kahkunibong
A kangaroo, he's sneaking up to kill a kangaroo
kah-yamûng wanjingyih
one (man) has speared it
nûnda dalabon-walûng
This is in Dalabon
derrhmanjhmanjho nidjarrabeda yalah-dokkang
In the morning we got up and set off from here
mimih bimno yilah-yawanj
we looked around for Mimih paintings
yilah-ngalkang wanjing
we found one
djarra Burrinjdjibburrinjdji
here at Burrinjdjibburrinjdji
kanihdja wadda
here at the camp
dunno kanihdja baddunno yilahngalkang
we found it in the cave here
bimno balah-mey
they took photos
yalahlng- yalahlng-bulkang yirrhwalûng
we went down (to the river)
yalah-djowkkang kanihdja Burrinjdjibburrinjdji
we crossed there at Burrinjdjibburrinjdji
bolhnokah
on the foot-track
djowk yilah-kang
we crossed over
yalah-dordminj
we climbed up
kakkarrbadkah
on top of the rock
yalah-bong badno
we went around (on the) rock
kanihdja rawoyhno yalah-dirnikang wah yilah-kolh-ngun
there we say down again to have a drink
rawoyhno yalah-dokkang
we set off again
yalah-bong
we walked along
kanihdja bimno bulno ngah-marnû-bengHbengkan
I know where those paintings are, for them (i.e. to show them)
ngah-ngalkang djeya na
I found them there now
kanunh yalah-bengkan
we know where they are
bulnu ngah-marnu-yininj nûnda, nûnda baddunno
I said to them where the cave is
wadda... wadda Yiwilkwilk
at the place Yiwilkwilk
djarra bulnu ngah-marnu-yininj
I said that to them here
balah-bim-yurrinj
they did those paintings there
kanihbe yalah-dokkang
from there we got up
yalah-... yalah-...
we... we...
yalah-bulHkang yirrhwalûng, yirrhwalûng
we went down
bonoHurd ke yalah-.... yalah-mey
we got a bit of water
yalah-wawinj kanunh, kanunh bolkno nganabbarru djomono
we folllowed there, we followed a buffalo track
yalah-wawinj
we followed it
djarrabeda mahkih derrhmanjmahno yalahbong
we'll started in the morning
yalah-deh-djowkkang
we crossed the river in the morning
kanihdja Burrinjdjibburrinjdji
here at Burrinjdjibburrinjdji (his dreaming)
yalah-bong, yalah-dirnikang
we went along, and had a break (sat down)
yawok kaye-dedjdi
where there are cheeky yam tubers
kanihdja yilah-yidjnjang
we waited here for her
djih... yawok kah-bi... kah-... kah-binjinj
she dug up yam
kah-meymey
she collected them
yalah-dokkang yawoyh-no
we started moving on again
yalah-bong nahda wadda-kah yalah-dirnikang
we went along, and we sat down in that place
djarra Yayminji
there at Yayminji
kunj... kunj kaye-djowkka, kunj kadjowkka
at Kangaroo Crossing (country name)
djarrabeda kunj, kunj djarra wadda
here at that kangaroo place
kunj kadjowk... kunj kaye-djowkka
where that kangaroo crosses
kanihbe ngahyenjHyenjdjung
I am sitting talking about here, (this place)
ngah-yolyol
what I'm talking